CORON IN BRIEF
Coron is classified as a first class municipality located in Region 4B (MIMAROPA) in the province of Palawan. The municipality occupies the eastern half of Busuanga Island, all of Coron Island and approximately 50 other small islands including the Canipo Island on the southern end as well as the Tara Island in the northeast. All of these are part of the calamian archipelago in northern Palawan, also known as Calamian group of islands, that separates the west Philippine sea from the Sulu sea.
The name of Coron town originated from Cuyonen term for earthen pot. It was named by Don Nicolas Manlavi Y Ledesma in reference to the shape of the bay fronting their first settlement in Barangay Banuang Daan. Coron has a total land area of 69,247.1460 hectares. It is subdivided into twenty three barangays, nineteen located in mainland and four in nearby islands. Being an island municipality, ships and planes are the main transportation means to and from Manila. Motorized boats, tricycles, jeepneys or trucks transports people and merchandise between barangays and neighboring towns.
View of Coron town
HOW TO GET THERE
By plane
Coron is accessible directly from Manila or Cebu City. There are several flights daily from Manila served by AirPhil Express, Cebu Pacific and SkyJet. Cebu Pacific also serves flights from Cebu. The domestic airport serving Coron is the Busuanga airport (
IATA Airport Code
: USU) also known as Francisco B. Reyes airport. Travel time from Manila to Busuanga airport is approximately 45 minutes to one hour. Direct flight from Cebu is around 40 minutes. Other Cebu flights taking the Cebu-Manila-Busuanga route will take approximately one hour and 40 minutes.
Busuanga airport or Francisco B. Reyes airport. Damage brought by typhoon Haiyan (locally: Yolanda) still visible.
By Sea
If you prefer to travel by ship to Coron from Manila or Puerto Princesa, the best option is the
2GO Ferry
(formerly known as Superferry). 2GO Travel travels the route Manila-Coron-Puerto Princesa and vice versa twice a week. You can contact 2GO by phone +63(02)528 7000 or email
info@2go.com.ph
. Other options are Atienza shipping lines and San Nicolas Shipping lines. Atienza shipping lines freighter leaves every Wednesday 6PM from pier 5 in Manila to Coron and every Saturday 6PM from Coron to Manila. Contact them at telephone numbers +63(02) 986 3118 / +63(02) 536 8123 or email them at
atienzashippinglines@yahoo.com
. San Nicholas shipping line freighter on the other hand, operates several times a week plying the route Manila-Coron-Manila. For more information and booking, call them at +63(02) 245 2830 or +63(02) 243 4595
WHERE TO STAY
Asia Grand View Hotel
Location: 12° 0' 7.48" N, 120° 11' 37.26" E
Strategically located just outside of town proper, this hotel offers a tranquil place to stay. You will feel closer to nature when you stay in this hotel. The view from the restaurant and roof-deck is very beautiful. The staffs are friendly and very accommodating. The hotel have their own brackish water pool with varying depths of 2ft, 4ft, 6ft and 8ft. Twenty spacious rooms with a balcony or porch are available.
Large bed and fluffy pillows :)
View from the restaurant
PLACES TO VISIT
Mt. Tapyas View Deck
Location: 12° 0' 17.55" N, 120° 12' 17.78" E
Mt. Tapyas view deck is one of the popular destinations in Coron. The viewdeck with a height of approximately 214 meters above sea level offers a panoramic view of the town, the sea and neighboring islands. The climb is also quite a good exercise, but it is not that hard as the trail is provided with concrete stairs complete with handrails. The entire trail consists of 621 stair steps, 96 landings, 9 rest stops and 2 path ways. Rest stops are provided with concrete benches where you can relax and do some more stretching. Here's what you need to tackle before each rest stops:
83 stair steps and 12 landings to 1st stop
39 stair steps and 2 landings to 2nd stop
35 stair steps and 2 landings to 3rd stop
42 stair steps and 6 landings to 4th stop
96 stair steps, 21 landings and 2 pathways to 5th stop
53 stair steps and 14 landings to 6th stop
57 stair steps and 11 landings to 7th stop
31 stair steps and 6 landings to 8th stop
50 stair steps and 8 landings to 9th stop
135 stair steps and 14 landings to view deck
Mt. Tapyas as seen from the baywalk
Resting on one of the benches near the pathway
Panoramic view of the town and neighboring islands from the view deck
CYC (Coron Youth Club) Beach
Location: 11° 57' 49.78" N, 120° 10' 49.14" E
CYC beach provides white sand beach and very clear water and a large swimming area with gently sloping depths of about 5 to 7ft. It is an ideal place to get yourself accustomed to the snorkel (if its your first time) and also for training first time scuba divers.
White sand at CYC Beach
Snorkeling near CYC Beach
Twin Peaks Reef
Location: 11° 57' 38.26" N, 120° 13' 5.35" E
Twin peaks reef is another snorkeling site, so named because two islets marks its location. The area is abundant with marine life that you can easily explore while snorkeling on the water surface.
At twin peaks reef
Hidden Lagoon
Location: 11° 58' 02.51" N, 120° 14' 6.19" E
Hidden lagoon is not so hard to find as it is a part of most island hopping tours offered in Coron. This lagoon has a mixture of saltwater and freshwater flowing into the sea from the mountains. You can feel the cooler freshwater while snorkeling on this area. Although there is no corals, you can still find some fishes specially near the seaweeds.
Look what I have found.. a hidden lagoon.
Isla Bulungan Beach
Location: 11° 58' 02.34" N, 120° 13' 50.02" E
Isla Bulungan's name is a Cuyonen term which translates to "healing place". Indeed, it is a healing place, a place to heal your hungry stomach after snorkeling for hours. This location is usually the mess hall of the island hopping tours. There are nipa hut cottages along the shoreline where the boatmen-guides-cook will serve the food they have prepared themselves.
The Isla Bulungan with cottages on the beach
Calachuchi Coral Eden
Location: 11° 58' 04.16" N, 120° 13' 46.11" E
Calachuchi coral eden stands for its name. The vast array of corals in the area is teeming with marine life. With the coral reef bordering a steep edge of very deep water, there is a probability that you will chance upon a sea turtle while snorkeling.
An islet with a calachuchi growth marks the coral reef snorkeling spot
Kayangan Lake
Location: 11° 57' 28.21" N, 120° 13' 34.09" E
Kayangan lake in the island of Coron is accessible through Coron island cove. Most of the time this cove is labeled in some postcards or online images as Kayangan lake, but actually is just a view from the top of the steep trail going to Kayangan lake. Kayangan lake features a crytal clear brackish water enclosed by mountain walls. The underwater view of rock formations and grayish sediment is a little bit eerie but still snorkeling here is as equally enjoyable as that on the sea.
Coron island cove view from the trail in front of the cave.
Kayangan lake
Clear water of Kayangan Lake
Sangat Submarine Chaser Wreck
Location: 11° 58' 28.45" N, 120° 04' 46.78" E
The submarine hunter wreck about 40 meters long is inclined on the coral reef a few meters on the east side of the Sangat island. It is a good dive site for wreck diving beginners as well as underwater photography enthusiasts. With the bow of the shipwreck only 3 meters down from, even snorkelers can see it and explore the bow of the ship.
Gearing up for my first shipwreck dive
Lusong Gunboat Wreck
Location: 11° 58' 26.13" N, 120° 01' 44.07" E
Another wreck site that is great for snorkeling and scuba diving alike. With maximum depth of eleven meters, the stern of the ship even appears on the surface during low tide. The shipwreck is already covered with corals and showcases a wide variety of marine life.
Scuba diving at lusong gunboat wreck site
Corals already growing on the shipwreck
Maquinit Hot Spring
Location: 11° 59' 29.15" N, 120° 13' 43.17" E
This hot spring is located approximately 5 kilometers road distance from the town proper. You have to hire a tricycle from town to go to this place. If you have to drive like what I did, take extra precaution as the road is narrow in some places. When you arrive at the location of this hot spring in a mangrove covered rocky hillside area you will feel already relieved of your tiredness. This is the only saltwater hot spring in the Philippines with the water temperature ranging from 32°C to 42°C, hence the name Maquinit which is Cuyonen word for hot. The first time you dip into the saltwater hot spring, you will feel that the water is quite hot but as soon as your body has adjusted you will feel it as very relaxing and soothing. It is advisable to come during late afternoon as the midday sun may make dipping into the hot spring unbearable.
Maquinit hot spring
Dipping in the 41.748°C saltwater hot spring
Malbato Chapel
Location: 12° 01' 47.78" N, 120° 06' 52.15" E
Located on a hill overlooking the sea, this chapel is a nice place to visit, not only because of the very relaxing scenery and beautiful architecture of the chapel but the very calm place for prayer and meditation. The chapel is located on the right side of Coron-Busuanga road about 16 kilometers from the town proper.
The facade of Malbato chapel is decorated with stones and shells.
The altar of Malbato Chapel
Kingfisher Park
Location: 12° 01' 33.22" N, 120° 07' 32.11" E
The park is located near the beach and surrounded by mangroves, this makes it an ideal place to enjoy watching local wildlife. The park derived its name to the fact that about six species of kingfisher bird resides in the area. Activities offered by the park are mangrove kayaking, firefly watching at night, hiking up the Lunes Santo mountain as well as trekking to Kaluluwang falls. For booking and inquiries, you can check out their
website
.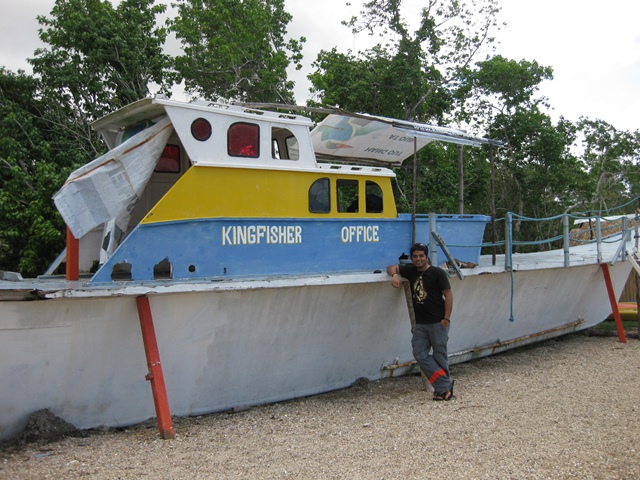 At Kingfisher park office
OTHER THINGS TO DO
Run / Hike
The countryside environment and clean air of Coron is very nice for an early morning run or hike. Aside from the coastal running route offered by the Lualhati park, my favorite is the Governor Drive - National Highway route. This is approximately 4.3 kilometers of paved road ranging from flat to medium steep run.
My favorite running route. Marker shows the location of Asia Grand View Hotel
USEFUL LINKS
Coron Galeri -- Is being run by Corong Lokals, a local based micro entity in Coron Palawan. They promote community based projects - locally produced and environmentally-friendly products as well as eco-tourism operations. They offer affordable ecotour packages and island hopping tours.